Written by Helen Lo, Physiotherapist
What is it Related Pelvic Girdle Pain? 
Pregnancy-related pelvic girdle pain is a specific category of pelvic pain that impacts women during pregnancy.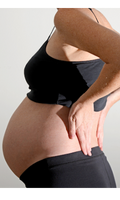 It is characterized by pain in the lower back, hips, and/or pubic area that can be exacerbated by certain activities such as walking, climbing stairs, or even just standing for long periods of time. PGP can have a significant impact on quality of life.
The cause of this pain is multi-factorial and is often influenced by biopsychosocial factors. This is essentially the fancy name for any pelvic, hip, and/or low back pain during pregnancy!
How Common is This?
It is reported that between 25-65% of women experience pelvic girdle pain during pregnancy! It is most common for this pain to develop during weeks 14-30 of gestation. 
Risk factors for developing PRPGP
There are a  wide range of risk factors for PRPGP, including:
– Previous pregnancy
– Previous history of low back pain
– Increased BMI
– Smoking
– Work dissatisfaction
– Previous trauma
– A lack of belief of improvement
A Change in Perspective
Previously, the messaging delivered was that the hormones released during pregnancy caused widespread relaxation of our ligaments leading to instability of our joints and thus causing pain. 
Research now is showing that the hormones don't cause widespread instability and instead increase the sensitivity of our tissues causing the sensation of pain. It is important to understand that pain is an experience, differs from person to person, and can occur in the absence of any structural tissue changes. 
How Can Pelvic Floor Physiotherapy Help?
Although common, we don't want pelvic girdle pain to dictate your pregnancy and slow you down in any way. 
Pelvic floor physiotherapy is an approach to treatment that can target some of the root causes of this pain and help facilitate an action plan to make you feel better.
Pelvic floor physical therapy (PGP) is a specialized form of physical therapy that focuses on the muscles, ligaments, and connective tissues in the pelvic region. 
It can be used to treat a variety of conditions, including urinary and fecal incontinence, pelvic organ prolapse, chronic pelvic pain, sexual dysfunction, and postpartum rehabilitation.
Physiotherapy treatment could include:
1. Manual therapy including joint mobilization and/or soft tissue release both internally and externally
2. Introducing pain free movement
3. Taping for the low back or belly for increased support
4. Support belts
Consider Trying This: 
The Fitsplint 
This product is a great way to help relieve lower back pain, pelvic pain, or bladder pressure. It is lightweight, breathable, and can be used during exercise! You can find the fitsplint at any Peak Health location and a therapist would be more than happy to help fit you for the correct size. 
Don't Let Pain During Pregnancy Stop You! 
Pain is one of the most common symptoms reported during pregnancy but it doesn't have to be. With the help of a pelvic floor physiotherapist, you can learn many strategies to help reduce your pain and remain active throughout your pregnancy. Book your discovery call today to learn more about how Peak Health physiotherapy in Calgary can help. 
Resources
Clinton, S. C., Newell, A., Downey, P. A., & Ferreira, K. (2017). Pelvic girdle pain in the antepartum population: Physical therapy clinical practice guidelines linked to the International Classification of functioning, disability, and health from the section on Women's health and the orthopaedic section of the American Physical Therapy Association.

Journal of Women's Health Physical Therapy

,

41

(2), 102–125. https://doi.org/10.1097/jwh.0000000000000081